Favorite Links
Favorite Links
The following is a list useful links. I add to this occasionally when I find an article or webpage of interest. If you would like to be listed, please send me an e-mail (see last link.)
This is the home of general information on the Backyard Patch with articles on related topics and an up-to-date list up upcoming events and programs.
Our Blog is updated 3 to 5 times a week and features a monthly tea time post and a weekly herb of the week on Wednesday. Stop in to view and share some of our herb knowledge.
Here you can link to our Ebay store were all the Backyard Patch items are for sale.
Fans on Facebook get early information on new products and sales, as well as special discounts.
A place for any unique herb creations as well as our full line of herbal products.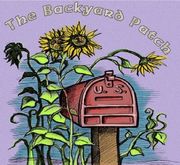 Popular Products:
Our blends of herbs for creating dips & dressings, sauses & spreads.
Herb sprinkles combined for any ingredient.
Blended herbs for taste and healing that are out of this world!
Scrubs, Salts, Soaks and numerous other body treatments incorporating healing herbs!
Have Fun!