Full List of Available Backyard Patch Programs
In the Backyard...
FEATURED PROGRAM
Historic Herbal Treasures -- Herbs in history are both curious and interesting. Theories like the Doctrine of Signatures and Historical Herbals like Culpepper's from 1653, give us great insight into how herbs were important to our ancestors. This program discusses historical uses of herbs, several theories used to determine the curative properties of herbs and the ageless language of flowers and how it was used by the Victorians. Overall a show and tell of historical blends, items and recipes. A small game with prizes featuring the language of flowers makes this a great program for evening groups.
Gardening Programs
Growing Herbs Well --The fascinating world of herbs and everything they can be used for begins with growing them well. As with all plants, their needs are varied, from light and soil conditions to nutrients and water needs. This discussion lecture includes best preactices for growing and harvest herbs with handouts including all the details.

The triple P - Planning, Propagating & Preserving --Soil preparation and design are not as hard as one would think. By following a few simple rules, you can have a flourishing herb garden in just one season. This lecture covers briefly how to propagate herbs, using seeds, cuttings and root division. It also touches on garden plans, small decorative herb gardens and pot gardens. The focus is on the soil needs of herbs and how to prepare the beds for optimum growth. Touching a bit on winterizing an herb garden, there are also tips for cooking and saving the herbs you grow.

Container Gardening -- Container Gardening is more popular today than ever. It is a boon for people with little time, small yards or apartments and condos. This program includes using imaginative containers, soil mixes, supplying nutrients, and basic gardening practices to create a container garden to enjoy all summer. We also provide a little extra planning so you can have a wintertime windowsill garden as well.

Perennial and Annual Herbs -- Perennial herbs require different care and feeding than annuals. This informative program covering how to identify hardy and tender perennial herbs, their growing habits. Like annual flowers, annual herbs need good, nutrient-rich soil to do well. This presentation begins with soil preparation and discusses the various growing habits, uses, and methods for obtaining the best possible harvest. A special graphic handout is included with propagation methods, harvest tips, and uses.

Elementary Herb Gardening (Elementary my Dear Gardener) --This basic look at how to garden with herbs includes everything a startup gardener should know: What is an herb, how do herbs differ from other plants, how to choose plants for a garden, how to prepare the soil, and how to keep them alive (basic care and feeding).

Beginner's Guide to Using Herbs -- A combination of how to harvest an herb and dry or preserve it with a few simple tips for cooking and gifting with herbs. We keep it simple to cater to the craft challenged and those with little cooking experience.

Intermediate Herb Gardening -- For those who have a garden, but want to get more enjoyment from it, this is a great starter. It includes a more detailed look at soil preparation and improvement, propagation methods, garden planning for certain results, companion planting (what it is and why you should try it) and much more.

Advanced Herb Gardening in the Organic style -- Gardening without chemicals can sometimes be difficult, this program will help viewers to recognize potential problems before they devastate a crop and show simple ways to improve your soil, plant health and harvest potential with totally organic materials available locally.

Making a Wagon Wheel Garden (from start to finish) -- A slide presentation detailing the creation of a wagon wheel garden from picking a site and preparing the soil, to choosing plants and planting, to harvesting and using. Slides detail all the steps of preparation and show the garden throughout the summer season.
TOP OF PAGE
General Programs
Be an Herbal Gourmet -- By adding even the most basic herbs to your culinary palette, you can make your cooking more interesting, delicious and enjoyable. Also adding herbs can enhance flavors and allow for more healthful cooking. It is easy to create herb mixtures to replace salt in food. This and other tips for using herbs to cook with everyday are included in this lecture. The discussion includes flavor families, what herbs to use with certain dishes, and how to create herbal vinegars, butters and other items which can add herb flavors to cooking when herbs themselves are not appropriate.
Holding the Harvest: Harvesting & Preserving Herbs -- Harvesting to preserve herbs takes very little time and requires no special equipment. Heat, dry air, good air circulation and darkness are all that is needed. This lecture covers the simple rules of cutting plants for preservation and the various drying methods. Additional methods of preserving herbal flavors, like freezing, vinegars, sugars, and butters will also be included.
Giving Away Your Bounty -- Making Gifts from Herbs (and version 2) -- Creating special gifts with the fruits of your garden is easy and relatively inexpensive. This demonstration lecture includes how to make and create various gift items using herbs. There are culinary blends, vinegars, bath items, and special scented items. Tips on presentation are also included. Potpourri is explained, but not demonstrated. No additional fee is required unless a full demonstration of all steps in creation of items is desired. There are two different versions of this program available so it can be repeated to the same audience.
Curative Properties of Tea -- Much has been touted recently about the benefits of a good cup of herbal or green tea. This lecture discusses the difference between black tea and herb tea as well as what herbs make good tea, how to formulate your own teas and the various medicinal properties discovered throughout time of various native plants. It also includes some information on the benefits of green tea. If hot water is available we can create our own blend to sample at the end of the program.
Green Cleaning with Herbs -- This program points out the numerous ways herbs can be used in your household outside cooking. Learn to create moth repellents that will not repel your nose, find out all the possible cleaning uses for an herbal vinegar, create mixtures to scrub ceramics, disinfect the bowl and give your glass sparkle. We will also discuss fighting fleas and ants, and making household chores more aromatic with items like iron waxers and carpet deodorizers. Real-time demonstrations will illustrate all the techniques used.
Body Beautiful -- Make your body beautiful with herbal creations for the bath and skin. With basic ingredients blended with essential oils and natural botanicals, anyone can create custom bath products. Learn how different scents create and change moods, induce sleep, or enhance awareness. You will learn how to use everyday materials blended with a few herbs to create bath salts, facial masks, and relaxing massage and aromatherapy items. All recipes included.
Infusion -- Herbs can infuse their scent and flavor in many different ways. This lecture explores how to create herbal sugars and vinegars for cooking and how to infuse herbs into bath salts. Real-time demonstrations give participants a feel for how easy it is to create items with herbs for every day use. Recipes and instructions included. Special bonus is a discussion of how to package items for gifts or sale.
Decorating with Marcy -- Winter Holiday Seasons and Springtime Festivities are wonderful times to decorate with the color and fragrance of herbs. This program shows you how to make simple, yet amazing decorations for doors, mantles, tables and trees to bring natures bounty into your home. Also includes a special section on making favors for guests.
Historic Herbal Treasures -- Herbs in history are both curious and interesting. This program discusses historical uses of herbs, several theories historically used to determine the curative properties of herbs and the ageless language of flowers and how it was used by the Victorians. Overall a show and tell of historical blends, items and recipes. A small game on the language of flowers makes this a great program for evening groups.
TOP OF PAGE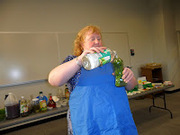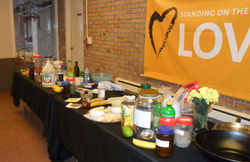 Special Library & Church Programs
The Herbs of the Cadfael Mysteries
--
Both a PBS Mystery program and a series of books by Ellis Peters, Brother Cadfael was an herbalist.

The stories featured several herbs and medicinal ointments and treatments.

This program discusses the more prominent herbs and some of the medieval lore that was prevalent about herbs and their uses.
Herbs of the Bible -- Ever wonder about all those references to plants in theBible? We will tackle some of the more interesting references to plants and herbs in the Bible, translate the names of the ancient world and discuss growing many of the plants referenced.
FEES
Fees --
Any lecture listed above can be done for $150.00.

If the group is less than 25 people, a lower fee may be negotiated.

Fees include handout materials for participants.
Almost all of the above mentioned lectures can be modified to include hands-on demonstrations and instruction.

Since this requires additional materials, supplies and equipment an additional fee of $2.00 per person or a minimum of $35.00 is needed for a demonstration lecture.
Travel
Boundaries -- At this time I do not travel outside the Chicagoland area. However, this is a generous area that includes southern Wisconsin, western Indiana and anything within a 100 mile radius of Elmhrust, Illinois.
Demonstration Programs
Blending Herbs
--
This lecture uses various methods and materials to create several dips, dressings and spreads.

Included is a detailed discussion of flavor families and choosing herbs to prepare the various foods.

Once students are well-versed in herb flavors they will choose and mix herbs for various ingredients like salads, vegetables, fruits, etc.

Methods of blending and melding herb flavors are discussed and recipes are demonstrated and sampled.
TOP OF PAGE