About
All About Marcy & The Backyard Patch
I am the webmaster, chief cook and gardener and otherwise general jack of all trades for The Backyard Patch. My name is Marcy Lautanen-Raleigh.
I have been growing and creating with herbs since 1994. I started with a small garden encouraged by the gardening aspirations of my two college friends Lynn Aiken and Elizabeth Haney.
Since that first garden I have expanded to almost 3/4 of an acre and I would have more if I could.
When my garden expanded beyond the needs of my small two-person family, I began marketing my products. With the help of a friend in graphic design I produced a three-fold brochure, listing a dozen products which grew to a catalog I had to move to the web because printing it every time I invented a new blend or tea was too costly.
I now make more than 39 Herb Mixes, 15 herb seasonings, 25 herbal teas, more than 12 black and green tea blends, and another 50 or so for bath and body products. I also offer seasonal soup and kitchen mixes and herbal vinegars.
In addition to gardening with herbs, I lecture on the subject. I guess I should explain. I went to Beloit College where I graduated with a degree in Anthropology and Museum Studies and a husband.
Following that I worked in various Midwestern museums for 19 years specializing in exhibit design and collections management in both history and anthropology based collections.
During those years of writing and re-writing exhibit labels and giving tours to museum visitors I perfected my public speaking.
So in 2005 when left all of that to spend more time with my herbs and my husband (working with him in Financial Services) I could devote even more time to perfecting my programs and publicizing my greater availability.
I now serve as office manager for a set of financial services offices in northern Illinois and spend my spare time lecturing on herbs, teaching Girl Scouts the joy of cooking and gardening, and of course, tending my herbs.
The Story Behind My Site
With this web site I hope to share some of my experiences with herbs and the knowledge of herbs I have gained in the last 20 years. That would include the gardening process, the preservation and use of herbs, and even the folklore and history of plants and those who use them.
As I learned the flavors of each herb I realized they are underused in cooking by more people. I have tried to gather easy recipes for cooking with herbs and formulated my herbal blends to make them simple even for a beginner cook. On this website you will be able to browse the recipe archive for some of my well-loved favorites.
I hope eventually to share some of my research on Native American plants and the historical uses of herbs as I prepare new lectures on those topics.
Please browse the links above and to the left for newsletters, articles and to our Ebay store were all my products are for sale.
Shopping Cart has finally arrived!
This website is now shopping cart equipped!
You can now purchase direct from the Backyard Patch without going to our e-commerce sites. Choose the "Add to Cart" buttons to add items to your cart and the "View Cart" button at the top of each page to see what you added. We are using PAYPAL protected purchasing so we never see your payment information and you have a variety of payment options.
We have also expanded our marketing to include a shop on the handcrafted website of Etsy.com You can visit this at http://www.backyardpatch.etsy.com/ We share our newest itmes here first. We announce our blog topics and new products and discounts on Facebook.
We have also become part of PoppySwap.com This is an all herb related shopping location. We should have individual listings for each of our bath, tea and cooking items listed soon. Click this linkto check out the store on PoppySwap
Who / What is the Backyard Patch?
If you are new to the site, The Backyard Patch is a home-grown endeavor of herb gardener, Marcy Lautanen-Raleigh. For the last 20 years I have been gardening and creating with herbs. Using the surplus and later the main abundance of my herb gardens, I have invented dozens of herbal cooking blends, teas and bath products.
On this website you can explore the information I have gleaned from over a decade of gardening and crafting with herbs. If you live in the Chicagoland area you can find me at local craft shows and some farmer's markets or you can experience my lectures at your local library or garden club. For information on dates, times or to ask for availability, contact me via e-mail at

backyardpatch@juno.com

.
Programs & Lectures Available--
Browse a detailed list of our programs presented live by herb specialist and Backyard Patch owner, Marcy Lautanen-Raleigh. Programs range from growing herbs to using them in everything from healing teas, to cooking, to making your own products for bath or health. We do many seasonal programs on spring cleaning, holiday gift giving and decorating. Click here to see a list of program descriptions we can present to libraries, museums, garden clubs, and even book clubs.
Our current schedule is available both in the Newsletter and on the Schedule page.
We fashion more than 250 different blends of herbs for kitchen, bath and home. Click on the PRODUCT PAGES link to view all our items organized into categories, or click the list below to find the style of herbs you want: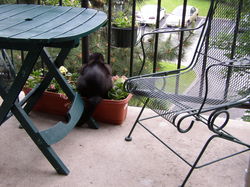 My Contact Information
Marcy Lautanen-Raleigh
P.O. Box 21
Elmhurst, IL 60126
630-248-7278