The Entire Herb Cooking Product Catalog
Cooking Blends Catalog
Including blended seasoning herbs with and without salt, rice and soup mixes, scone, shortbread and muffin mixes, any any other combinations using herbs that you can eat or cook with!
Herb Mixes
These packages of pre-blended herbs are formulated to make dressings, rubs, cheese spreads, butters, dips and marinades. Each comes with instructions and extra recipes and tips. And we put up more recipes on the website and blog to go with them as well. All Herb Mixes sell for $2.35 each and contain 3 Tablespoons by volume. For a detailed description of each mix including ingredients, please see the Product Pages.
List of items
Bean Soup Mix

Bread Blend

Dilly Bread Blend

Beauy Monde

Bouquet Garni

Boursin Cheese Blend

Butter 'n' Cheese Spread
Caesar Salad Dressing
Cilantro Spread
Cinn-ful Dessert Blend
Marcy's Dill Dip
Fiesta Dip Mix
Four Spice Meat Rub
Patch French Dressing
Garlic & Herb Combination
Grilled Meat Rub
Herbal Spread
Herb Cheese Dip (new)
Horseradish Dip
Horseradish Spread
Italian Dressing/Marinade
Lemon-Sage Marinade for Chicken
Lemon Salt-free Salad Dressing (new)
N'Orleans Seasoning
Paprika Chicken Rub
Pesto Blend
Poppy Seed Dressing
Potato Topper
Ranch Dressing/Dip
Original Rice Seasoning
Vegetable Rice Seasoning
Spanish Rice Seasoning
Salsa Mix
Hot Salsa
Volcano Hot Salsa
Sweet Hot Mustard
Tarragon Yogurt Dip
BACK TO TOP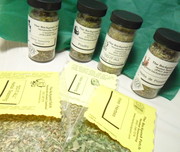 Soup Mixes
Combinations of beans, noodles and the perfect seasonings which allow you to make soup on the stove top or in the crock pot that has all the flavors of homemade with much less hasle. Each comes with full instructions. All you need to add are the liquids and fresh vegetables. Soups are priced at $4.25 unless they are in a mason jar then they are $4.75. For more details about the Soup Mixes and their contents, please see the product pages.
List of items available all year
Black Bean Soup

Barley Vegetable Soup

Chicken / Turkey Noodle Soup

Chili Seasoning Blend

Lentil Soup

Minestrone Soup

Mulligatawny Soup

Multi-Bean Soup
List of Items available online in Fall & Winter
NEW Autumn Bean Soup

Good Luck Mason Jar Soup

Patchwork Layered Mason Jar Soup

Split Pea Soup

Southwest Tex-Mex Chili Soup

Texas Two-Step

Mason Jar MIx

Creamy Mushroom & Rice Soup

Mexican Chicken Soup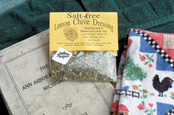 Herb Seasonings
Available in jars ($4.50) and refill bags ($3.50), these seasonings can be shaken into a dish or added to a recipe when just one herb will not do! Recipes and tips are included. For detailed descriptions of these blends, check out our product pages.
List of items
Soup & Salad Herb Seasoning

Rainbow Soup Blend Herb Seasoning
BACK TO TOP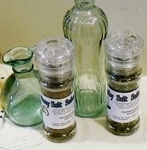 Rice Mixes and Side Dishes
Using rice as a base, Rice Mix blends add seasonings and flavors to create great side dishes in minutes. We have also developed a few other side dishes using other ingredients. These are each $3.75.
List of items
Herb Seasoned Rice

Herby Rice Pilaf

Orange Seasoned Rice

Vegetable Rice

Wild Rice Blend

Spanish Rice Mix Blend

New Oriental Rice

Boston Baked beans
BACK TO TOP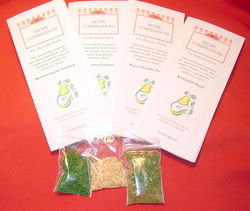 Salt Substitutes
Placed in a grinder jar these whole herb blends are perfect as a subsitute for salt. Flavorful and bright they will never let you miss the salt you will be leaving out!
List of items
BACK TO TOP
Gourmet Salt Blends
Our newest offering, these blends are combinations of rock sea salt with herbs and spices to give your salt a new and different sensation. Each comes packaged in a glass grider jar and sell for $4.75.
List of items
BACK TO TOP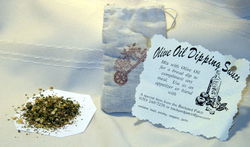 Recipe Combos and Samplers
You can make dinner in a hurry with just the right seasonings using these recipe folders that come with all the herbs and spices you need along with the recipe and shopping list.
List of items
Basil Pesto Pasta
BACK TO TOP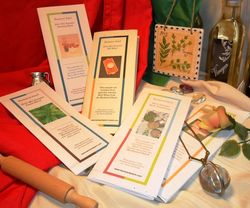 Kitchen Mixes
Mixes you can use in your kitchen to create scones, breads, muffins, pancakes and more. Perfect as gifts and for the busy person who wants to make something special without much fuss.
List of items
Backyard Patch Olive Oil Dipping Sauce

Lemon Tea Bread

Hearty Brown Bread

Fruit & Oatmeal Muffin Mix

Lemon Muffin Mix

Jam Surprise Muffin Mix

Oatmeal Raisin Muffin Mix

Poppy Seed Muffin Mix

Cardamom Scone Mix

Friendship Scone Mix (chocolate chip)

Lemon Cream Scones

Shortbread Mix

Herbed Shortbread Mix

Cinnamon Pancake Mix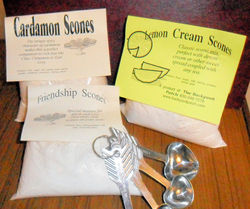 Samplers
Each sampler contains three items packaged in a full-color brochure with full instructions and recipes as appropriate. The Tea Samplers also contain tea infuser bags. Each sampler is priced at $4.95 with free shipping.
6 different Tea samplers focusing on different herbs combinations

2 different bath samplers one on aroma and one of tub teas

1 herb seasoning sampler with our 3 most versatile blends

9 different herb mix samplers for anything from, marinades to rubs, to dips, dressings and cream cheese spreads
TOP OF PAGE
Seasonal Offerings
During the winter and fall soup mixes, cider blends and specialty gift baskets and combination are made available on all our websites. During other seasons of the year, we have various items available on a limited basis. This list is just a short selection of what can be made available based on herbs we grew that year or recipes we are trying.
List of items
4 different spiced cider / mulled wine blends
Various soup mixes (see list below)
Choose your own Gift Baskets (you pick the contents and we do the work)
Christmas ornaments
Decorative Cards
Seasonal dressings and dips