Recipe Archive
Scroll Down for Winter Therapy Tea
Hearty Beef Stew
Marinade:
1 glove garlic

10 peppercorns

8 whole allspice

1 tsp. salt

1 cup red wine

3 pounds rump roast, cubed
Stew:
3 T Olive oil

2 cups beef broth

1 Backyard Patch Bouquet Garni packet

1 clove garlic

3 medium carrots, peeled & quartered

1 large white onion, quartered

12 small mushrooms, sliced

10 oz. pkg. frozen green peas
Directions:
Marinated Beef: In a deep bowl, combine 1 clove garlic, crushed peppercorns, allspice, 1 tsp salt, and wine. Stir to dissolve salt. Add beef cubes, pressing cubes down into marinade to immerse as much as possible. Cover and marinate in the refrigerator for at least 1 hour.
.
Remove beef and garlic from marinade with a slotted spoon, reserving marinade. Pat beef and garlic dry on paper towels. In a 6 quart non-reactive oven-going pot (like a dutch-oven), heat olive oil and garlic over medium-high heat. Add meat in 2 batches, searing meat on all sides until deep brown. Return all meat to pot. Pour in reserved marinade and beef broth. Add bouquet garni. Bring to a boil. Boil gently for 10 minutes. Reduce heat and simmer for 30 minutes.
.
Preheat oven to 350F. Layer carrots, onions and mushrooms atop meat mixture in casserole. Cover and bake at 350 degrees F for 1 1/2 hours until meat and vegetables are tender. Remove bouquet garni. Stir in frozen peas. Season to taste with salt and pepper. Cover and bake 4-5 minutes until peas are cooked. Spoon stew and cooking juices into individual serving bowls. Sprinkle with chopped fresh parsley.
Winter Therapy Tea

4 c. water
1 Tbsp. fresh ginger, peeled & sliced into 4 thin rounds (about 1" piece)
1 Tbls. lemon grass, dried
2 sticks cinnamon bark, dried
10 whole cloves
10 whole green cardamom pods
1 Tbsp. whole mint leaves, loosely packed or 2 tsp. dried (peppermint or spearmint will work)
freshly squeezed lime (or lemon) juice, to taste
honey, to taste

Directions:
Bring the (4 c.) water to a rolling boil in a medium-sized sauce pot or tea kettle, about 8 minutes. Add all herbs & spices & continue to boil for another 6-8 minutes. Remove from heat, allow to steep for another 1-2 minutes, strain to remove whole herbs & spices, & then pour into a tea pot. Pour into tea cups, add desired amount of lime (or lemon) juice & honey. Serve.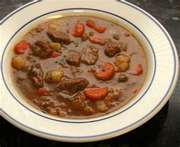 Basil Mousse & Strawberry Parfait
Strawberry sauce
8 oz. fresh strawberries, hulled and sliced

1 tsp. finely grated orange zest

4 to 5 Tbls. Confectioners sugar, or to taste
White Chocolate Basil Mousse
1 cup loosely packed basil leaves, stems removed coarsely chopped

3 cups heavy cream, divided

5 tsp. cold water

1 tsp. powdered unflavored gelatin

4 large egg yolks

½ cup granulated sugar

¼ cup all-purpose flour

4 oz. white chocolate, finely chopped

1 tsp. pure vanilla extract

2 tsp. finely grated orange zest

3 Tbls. Confectioner's sugar
Garnish (optional)
Strawberry quarters
Small fresh basil leaves
DIRECTIONS:
M

ake sauce buy combining berries, zest and 2 to 3 Tbls confectioners' sugar in a food processor. Process until smooth. Add more sugar to taste. Cover and refrigerate until ready to assemble.

Make mousse. Combine basil, 2 cups cream in saucepan. Bring to scalding over medium heat. Turn off heat and steep about 30 minutes.

Meanwhile pour water into top of double boiler. Sprinkle gelatin over water. Let sit 5 to 10 minutes until gelatin has completely absorbed water. Melt over low heat on top of double boiler, then turn off heat.

Whisk yolks and sugar together. Whisk in flour. Strain cream mixture into yolk mixture pressing excess fluid from leaves and whisk to combine. Add white chocolate.

Pour into clean sauce pan and cook over medium heat, stirring slowly and constantly in a figure 8 pattern until chocolate has melted and mixture just comes to a boil.

Note: a whisk can help break up lumps that naturally form in the 100% cream sauce. Do not whisk too strongly or mixture will break.

Strain chocolate mixture into a large bowl. Immediately whisk in warm gelatin, grated orange zest and vanilla extract.

Cover surface flush with plastic wrap and cool to room temperature, about 30 minutes.

Assemble by alternating fruit mixture with chocolate mixture in a parfait glass or tall glass and sprinkle berries and basil on top.