Recipe Archive
Roasted Paprika Chicken
1/ 4 cup smoked paprika

2 Tbls. fresh thyme leaves, chopped

1 Tbls. fresh savory, chopped (summer or winter)

3 Tbls. extra virgin olive oil

2 tsp. kosher salt (reading Alton Brown again!)

1 tsp. coarsely ground pepper

5 pounds assorted chicken pieces with skins

2 lemons, thinly sliced

Garnishes: lemon slices, fresh thyme sprigs
Stir together first 6 ingredients to form a paste. Spread half of paprika mixture evenly underneath skin of chicken pieces. Place 1 to 2 lemon slices underneath skin on top of paprika mixture. Arrange chicken pieces in a single layer on a wire rack in an aluminum foil-lined broiler pan or 17- x 12-inch jelly-roll pan. Rub remaining paprika mixture evenly over skin. Bake at 425° for 35 to 40 minutes or until a meat thermometer inserted into thickest portions registers 165°. Let chicken stand 5 minutes; lightly brush with pan juices just before serving. Garnish, if desired.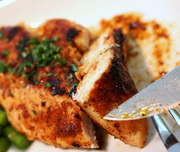 Summer Salads
Tropical Salad
6 slices bacon

1/4 cup pineapple juice

3 tablespoons raspberry herbal vinegar (or lemon herb vinegar)

1/4 cup olive oil

1/2 tsp. apple (or any) mint, dried

freshly ground black pepper & salt to taste

1 (10 ounce) package chopped romaine lettuce

1 cup diced fresh pineapple

1/2 cup chopped and toasted macadamia nuts

3 green onions, chopped

1/4 cup flaked coconut, toasted
Directions:
Place bacon in a large, deep skillet. Cook over medium-high heat until evenly browned, about 10 minutes. Drain, crumble, and set aside. Combine pineapple juice, vinegar, oil, mint, pepper and salt in a lidded jar or cruet. Cover and shake well. Toss lettuce, pineapple, macadamia nuts, green onions and bacon together in a large bowl. Pour dressing over salad and toss to coat. Garnish with toasted coconut.
Summer Veggies with Mixed Greens
2 small cucumbers, thinly sliced

1/2 small red onion, thinly sliced

1 large tomato, halved and sliced

3 Tbls mayonnaise

1 Tbls. white vinegar

1 tsp. dried thyme

1/2 tsp. dried dill

1/4 tsp. salt

1/2 tsp. ground black pepper

2 cups mixed greens, torn
Directions:
In a medium bowl, toss together the cucumbers, red onion and tomato. Gently stir in the mayonnaise, vinegar, salt and pepper until coated. Cover and refrigerate for at least 1 hour before serving over mixed greens.