Recipe Archive
Cucumber Lemon Salad
3 cucumbers

8 oz. pkg. lemon yogurt

½ cup chopped walnuts

½ cup currants (or cranberries or dried cherries or yellow raisins)

4 green onions, chopped

1 tsp. dried lemon balm, crumbled (1 Tbls. fresh, chopped fine)

1/2 tsp dried mint leaves, crumbled (1/2 Tbls fresh cut in ribbons)

1/2 tsp. dried basil leaves, crumbled (1 /2 Tbls fresh cut in ribbons)
Peel cucumbers, halve lengthwise. Remove seeds and cut into ¼ inch slices. In a medium bowl combine all other ingredients and stir gently. Add cucumber. Refrigerate. Stir again before serving. Makes 8 ½ cup servings.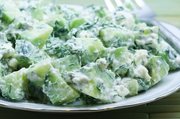 Vinegar and Herb Cabbage Slaw
2 cups finely shredded green cabbage
1/2 cup thinly sliced red pepper
1/3 cup thinlly sliced red onion
2 Tbls. herbal vinegar (chive blossom, lemon herbs, thyme or mint vinegars all work)
2 Tbls. extra-virgin olive oil
1 tsp. fennel seed, crushed
1 tsp. caraway seed (optional)
salt & pepper to taste
Directions:
Toss cabbage, bell pepper and onion with vinegar and oil in a large bowl. Season with herb seeds, salt and peper. Toss again to combine. Cover and refirgerate for up to one day. Makes 4 servings.