Recipe Archive
June 2010 Recipes of the Month
On-the-Go Coleslaw
This sidedish is simple and easy. You can take it to your next potluck and even create it on the fly. Is a perfect side for the kabobs to the right.
On-the-go Coleslaw
This quick and simple recipe will also save you if you need a potluck dish in a hurry.
1 lb. bag of coleslaw mix
1 cup prepared Backyard Patch Caesar Dressing
½ cup cherry or grape tomatoes, halved
Combine ingredients on medium bowl. Serve immediately or refrigerate until ready to serve.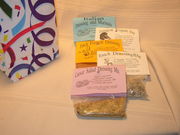 Ranch Kabobs
This easy grilled dish will allow you time to spend enjoying the outdoors and not be a slave to the kitchen or the grill. Is great served with the coleslaw to the left.
Ranch Steak Kabobs
4 new potatoes, cut in half
¼ cup prepared Backyard Patch Ranch Dressing, divided
1 lb. boneless beef sirloin steak
8 cherry or grape tomatoes
Heat grill to medium high heat. Cook potatoes in boiling water 12 to 14 minutes or until tender. Cool slightly. Cut steak lengthwise in ½ inch strips. Reserve ½ of Ranch Dressing and set aside. Thread meat accordion style onto four skewers, alternating each fold with a potato or a tomato between meat. Brush with dressing. Grill 10 to 12 minutes or until meat is done, brushing with reserved dressing the last 2 minutes.