Recipe Archive
UGLY BREAD
This bakes into an ugly wrinkly loaf (that's how I got the name) that is great with any soup.
1 loaf French bread, unsliced
1 Tbls. lemon juice
1/4 lb. butter (1 stick)
1/2 lb. cheese, sliced (mozzarella, Monterey jack, colby, co-jack)
2 Tbls. Dijon mustard
1 1/2 Tbls. dry Backyard Patch Italian Dressing & Marinade Mix.
Combine butter, lemon juice, mustard and Backyard Patch Italian Salad Dressing & Marinade Mix. Cut bread into 3 horizontal slices. Spread bottom layer with 1/3 of butter mixture. Top with 1/2 the cheese slices. Repeat with middle layer. Place the top layer on, then cut shallow slits along that top. Melt remaining 1/3 of butter mixture and pour over the top. Bake the loaf uncovered at 350 degrees for 45 minutes.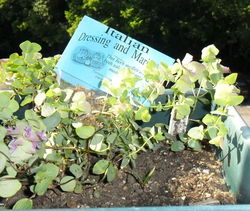 Black Bean Salad - May 2010 RofM
For the American holiday of Cinco de Mayo, people turn to Mexican culture for inspiration and I did too! Here is a great salad that serves a large crowd, or keeps in the refridgerator for several days for an easy-to-add side dish.
Ingredients
2 - 12 oz. bags of dry black beans

1 large smoked ham shank

2 bay leaves

1 red onion

2 ripe avocados

1 pint (2 cups) cherry tomatoes

Dressing:

3 Tbls. Water

2 tsp. ground chili pepper

2 tsp. Cilantro

1 tsp. ground cumin

½ tsp. granulated garlic

½ tsp. oregano (Mexican if you have it)

½ tsp. ground chipotle or other hot pepper (less if you don't like heat)

½ cup corn oil

¼ cup fresh lime juice (2 limes)

1 Tbls. Sugar

1 tsp. salt (to taste)
Directions
Rinse the beans and pick out the rocks, shells and other materials. Place in a large pot with the ham shank and 2 quarts of water with the bay leaves. Bring the water to a boil, skim off any foam, then reduce heat to low and simmer for an hour and 15 minutes to an hour and 30 minutes or until beans are tender. When done remove from heat, drain and rinse lightly just to stop the cooking process. Set aside. Prepare the dressing by mixing ingredients into water and allowing to stand for 5 minutes. Wisk the spice mixture into the corn oil, lime juice salt and sugar. Mince the onion, dice the avocado and quarter the tomatoes. Chop ham from the shank if wanted or needed. Place in a large bowl with beans and dressing, toss to coat. Cover and refrigerate until ready to serve. Toss again before eating.