Recipe Archive
Sauces & Salsas
Barbeque Sauce
1 cup ketchup or tomato sauce
salt to taste
Blend together in a bowl or sauce pan and warm to just under boiling then serve.
Poppy Seed Yogurt Sauce for fruit
1 Tablespoon frozen orange juice concentrate, thawed

1 1/2 Tablespoons Backyard Patch Poppy Seed Salad Dressing Blend

1 container (8 ounces) vanilla yogurt
Whisk the orange juice concentrate and the poppy seed mix into the yogurt. Serve chilled over fruit or as a fruit dip. Makes about 1 cup.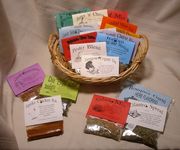 Black Bean and Corn Salsa
1/4 cup canned black beans, drained

1/4 cup corn (fresh and cooked, or frozen and defrosted)





Combine the salsa, black beans, and corn. Serve with tortilla chips.



Yield:

Makes 1 1/2 cups