Advent Calendar 2012
Complete Advent Calendar from 2012
This Advent Calendar will give you a multitude of herbal items some you can make for yourself, others make great gifts, and still others are designed to help you cope with the stresses of holiday time and the problems of winter weather. And don't think these are all "girlie" items. We have some great suggestions for men and children as well!
Thank you and enjoy the holiday!
Originally these were posted on the website in reverse order with the most recent day at the top. We have now reordered them from first to last.
December 2, Herbal Syrup
Sweet and refreshing, herbal syrups are fantastic toppers for vanilla ice cream, angel food cake and even mixed with soda water.
4 cups peppermint leaves

1 1/2 cups Sugar

Green food coloring (if desired)
Preparation:
Place leaves in a saucepan with enough water to cover. Simmer for 30 minutes. Strain through cheesecloth, reserving liquid. Measure 1 1/2 cups liquid. Place liquid and 1 1/2 cups sugar into saucepan. Simmer 15 more minutes. Add food coloring, if using. You can store this in the refrigerator for up to 1 month or freeze for up to 1 year.
Add 2 Tbls. to a glass of ginger ale or soda water to create your own seasonal drink. Or use as a topping on cheese cake or ice cream.
December 3, Honey Mustard Vinaigrette
A gentle, healthful, warming herb that is great to cook with all year, but is especially nice when the weather gets cooler in winter is turmeric.
This antioxidant herb can help increase HDL (good) cholesterol while lowering overall cholesterol as well as assisting with inflammations, ulcers and gallstones.
This recipe can be used on green salads, steamed broccoli or cauliflower.
It is especially good on bitter greens (like chicory or radicchio) often enjoyed in the winter.
3 to 4 Tbls. extra-virgin olive oil

1

½ Tbls. rice or mild wine vinegar

1 to 2 tsp. lemon juice

1 to 3 tsp. honey

1 ½ tsp.

Dijon mustard

½ tsp. turmeric

1

clove garlic mashed

Salt & pepper to taste
Whisk the ingredients to mix, Place in a cruet and keep in refrigerator until ready to use.
To use
:
Pour over greens and serve.
Or pour over steamed broccoli or green beans and refrigerate for up to 4 hours before serving.
December 4, Relaxation Tea Blend
This combination of relaxation herbs makes a soothing tea for the end of a stressful day of shopping or entertaining.
Peppermint

Lemon verbena

Chamomile

Lemon balm

Comfrey leaves

Strawberry leaves

Nettle
Combine the dried herbs in any volume from equal parts to adding a bit more of your favorites. Then use 2 tsp. per cup of hot water and let steep for at least 5 minutes before enjoying. I like to make a jar and keep it in the kitchen for anytime the stresses make me edgy.
December 5, Revitalizing Bath Blend
This lemony bath combination will soothe and relax, while revitalizing muscles and energy.
½ cup lavender flowers

¼ cup lemon verbena

¼ cup lemon balm

(You can substitute ½ cup of one or the other if you do not have both lemon herbs)

½ cup lemon or orange peel

10 drops lavender essential oil

6 drops lemon grass essential oil
Combine all herbs in a plastic bowl. Add oils by the drop and stir with a plastic spoon or spatula (not with your hands.) Allow to meld for an hour and then place about ¼ cup in a cotton muslin bag or heat sealed tea bag.
TO USE: allow bath bag to steep in hot bath water for 3 to 5 minutes before bathing.
December 6 - Green Tea Facial Steam
Facial streams moisturize, relax muscles, plump wrinkles, eliminate toxins, dislodge dirt in pores and improve circulation.

This aromatic blend will refresh and soothe and help you look pretty for all those holiday gatherings.
1/8 cup Green leaf tea

¼ cup lemon balm

1 to 2 Tbls. peppermint
Place herbs in a large ceramic or glass bowl.

Boil water and pour over herbs and tea, immediately placing a towel or lid over the bowl so that the oils being released from the herbs do not escape.

Steep 5 minutes.

Place the bowl on a table or other surface where you can comfortably sit and hold your face over the bowl covering your head and the bowl with a large towel to make sure that no steam can escape.

Make sure to keep your eyes closed and breathe deeply to inhale the therapeutic properties of the herbs.

Steam for 10 minutes
December 7 - Marshmallow Cocoa Mix
Never forget that chocolate is an herb and as such you can use it to create wonderful gifts for the holiday, like this perfect cocoa blend.


Marshmallow Cocoa Mix
1 ½ cup dry milk

½ cup powdered sugar

½ sugar

1/3 cocoa powder

¼ cup powdered coffee creamer

¼ tsp. salt

1 cup mini marshmallows in a small zipper sandwich bag.
Mix the dry ingredients together and place in a quart mason jar, add the marshmallows on top.

Decorate the jar as appropriate.

Attach all these recipes to jar.


Ways to use your Cocoa Mix
Marshmallow Cocoa
Place 2 heaping Tbls. of mix in a cup. Add 1 cup boiling water.

Stir until mixture is completely dissolved.

Top with mini marshmallows
Chocolate Milkshake
Please 1 scoop of vanilla ice cream and 1 cup milk in a quart jar.

Add 2 Tbls. Cocoa Mix.

Place lid on jar and shake until blended (or place all ingredients in a blender.)
Chocolate Milk
Place 1 cup cold milk into a glass.

Add 2 heaping Tbls. Cocoa Mix.

Stir to blend.
December 8 - Making a Sachet
Your garden may be good enough to eat, but those wonderful fragrances can be put to use on less fattening senses. Dried flowers and herbs tucked into bags and pillows have a fragrance that will let you travel back to the glory days of your garden. Herbs, especially, hold on to their fragrance. Use your sachets to scent a drawer, the clothes in the dryer, or tuck one under your pillow. They make great gifts too.
aa
Steps to Crafting a Sachet:
Select or make a small bag with a somewhat open weave. Be sure to leave one side open, if you are making bags.

Mix together enough dried herbs to fill the bag.

If you'd like to enhance the scent, a few drops of essential oil can be added.

Fill the bag with the flowers and herbs.

Either sew or glue the bag closed, or tie the end tightly with ribbon or string.

Enjoy. Rubbing the bag gently will further crush the herbs and release their fragrance.
Good choices for sachet contents:
lavender

lemon balm

lilac

peppermint

rosemary

roses

scented geraniums

thyme
You can enjoy your sachets in the bath too. Just let them float or tie a string just long enough to anchor them under the faucet. Holiday and seasonal fabrics help turn this simple sachet into a thoughtful gift.
The Backyard Patch has a selection of sachets in heat sealed tea bags and muslin bags that can be used in the bath, or in your drawers, closets and in pillow cases. You can find them all here -

Backyard Patch Sachets.
aa
December 9 - Mini Frittatas
aa
This is a great finger food you can make in advance.

Easy to make and simple enough the kids can give you a hand.

Re warm it the day of a family brunch and save yourself a lot of work in the morning.
1 medium zucchini cut in 1/8 inch rounds

6 button mushrooms

1 red bell pepper, seeded and diced

1 green bell pepper, seeded and diced

16 large eggs

1 Tbls. minced fresh rosemary

2 Tbls

Backyard Patch Soup & Salad Seasoning

½ cup finely grated Swiss or Gruyere Cheese
Heat oven to 400 degrees. Spray 24 mini muffin tins with cooking spray. In a large bowl, thoroughly mix the eggs, rosemary, seasonings. Distribute the zucchini, mushrooms, and peppers into each muffin tin. Pour egg mixture into each cup, filling to the rim. Sprinkle with cheese. Bake until set, about 8 to 10 minutes. May be refrigerated and reheated for serving at 325 degrees.
December 10 - Pink Grapefruit Styling Gel
Grapefruits and oranges are a traditional part of many Christian holiday celebrations. For this recipe you can make a little something with grapefruit to give your hair extra body for holiday celebrations. Grapefruit juice makes an excellent styling lotion because the natural sugars help hold the hair in place.
1 packet unflavored gelatin

½ cup fresh pink grapefruit juice

1 tsp. vegetable glycerin
Combine warm water and gelatin. Stir until gelatin is dissolved. Add grapefruit and glycerin. Stir mixture until well combined. Refrigerate until solid; this could take a couple of hours. Remove from the refrigerator and allow gel to return to room temperature before using.
To Use: apply a small amount to your hair before or after drying to add body and hold.
December 11 -- Mulling Spices
Anytime during winter, mulling spices are a wonderful mixture to not only simmer on the stove but add to apple cider for a hot beverage after caroling. This blend can be prepared ahead and used as needed as well as made to give as a gift. For a gift make the squares of spices and gather a number of them into a quart canning jar, placing the instruction on the outside of the jar. If you place only fabric in the lid you can present a scented as well as tasty gift for a hostess.
aa
Mulling Spices
2 cinnamon sticks, broken
Place all the spices onto a small square of doubled cheese cloth. Tie closed with ribbon. Attach a label with preparation instructions.
To Use:
Place bag in a saucepan with 1 quart of apple cider or cranberry juice. Heat very slowly until warmed to a simmer. Do not boil. Serve hot in mugs. For added kick add 1 Tbls. rum or brandy to each mug.
December 12 -- Herbed Cornbread in a Can
This makes a fun gift or just a fun presentation method for cornbread at a family event.
1/3 cup yellow cornmeal

¼ cup flour

1 Tbls. sugar

1 tsp. baking powder

1 tsp. savory, parsley or sage

¼ tsp. salt
Place all ingredients in a small bowl and blend with a whisk. Place mix in a small bag and package inside of a 14 to 16 ounce lined can (like a tomato or vegetable can.)
Cornbread Directions:
Preheat oven to 450 degrees. Heat empty can in oven. Empty contents of packet into a small bowl and add 1/3 cup milk, 1 Tbls. vegetable oil and 1 egg white. Mix until well blended. Remove can from oven. Spray well with cooking spray. Pour batter into can. Return to oven and bake for 25 minutes at 450 degrees. Shake gently to remove cornbread from can. Allow to cool slightly before slicing.
aa
If you think this is a great gift but do not have the time to collect the cans, we make and sell this

Herbed Cornbread

in the Backyard Patch

Etsy webstore

.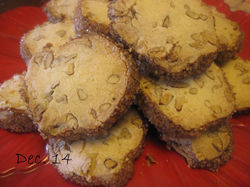 December 13 -- Herbal Salve
A salve is a medicinal ointment made from herbal infused oils and wax. Because salves do not contain water, they tend to last a long time and not become moldy. You choose the herbs and essential oils to match the ailments you desire to treat. For more information on the medicinal aspects of herbs, see this blog post.
Herbal Salve
4 ounces of herbal infused oil

3/4 ounce beeswax

10 - 12 drops of Essential Oil

Jars or tins for storing salve
Pour herbal infused oil into a double boiler and warm gently. Slowly add grated beeswax to the hot oil and stir until wax is melted. Add your choice of essential oil if desired. Pour into your sterilized salve jars or tins. Use only fresh smelling herbal oils. In warm weather, add more beeswax to keep product from becoming too soft.
To use: place a small amount of salve on affected area and work into skin. Do not use a dirty finger to scoop out salve. You can introduce bacteria to the clean product. As an alternative, use a Popsicle stick or coffee stir stick or other fresh applicator to keep the salve clean.
To craft an herbal oil for a salve – see this blog post at the Backyard Patch Herbal Blog

December 14 -- Pecan Shortbread Cookies
One of my favorite cookies growing up was Pecan Sandies by Keebler. This recipe is reminiscent of that and I have crafted it as a mix you can make and give as a gift. When you prepare it as a gift, provided a recipe card with the "Recipe to Create" instructions.
½ cup packed brown sugar

1 ¼ cups flour

¼ cup finely chopped pecans

pinch of cinnamon
Mix brown sugar and flour in a small bowl and place in a sandwich or zip seal bag. Place the pecans in the corner of another sandwich bag. Tie the second bag to the first with ribbon or place in a decorative bag to keep them together.
Recipe to Create:Mix contents of both packets in a medium bowl. Add a stick of room temperature butter. Mix with hands as dough will be stiff. Pat dough evenly in an ungreased 8" square pan. Score into 2 inch squares. Bake 20 minutes at 325 degrees. Remove from oven. Rescore while warm. Remove from pan when cool and break apart on scoring lines.
December 15 -- Citr
us Scrub
Dried citrus scrubs are crafted from any saved citrus fruit peels you air dry and grind in the food processor. Dried citrus peels make wonderful face and body scrubs.
1 Tbls. dried citrus peel (orange, tangerine, lemon, lime or any combination)

2 Tbls. plain yogurt or sour cream

1 tsp. honey
Mix together all ingredients and stir until smooth.

To use: Massage into damp skin and rinse well with warm water. Pat skin dry. Store any leftover Citrus Scrub in the refrigerator.

December 16 -- Celebration of "Las Posadas"

In Mexico the celebration of Las Posadas is to commemorate the long and difficult journey to Nazareth of Mary and Joseph. In the Month of December various parties or celebrations are held in different homes.

A candle-lit procession travels to the home led by a child dressed as and angel followed by other children carrying figures of Mary and Joseph.

The adults and musicians follow behind them. When the home is reached only half the group goes inside, while the rest remain outdoors begging for shelter. Eventually they open the door and welcome the rest of the group inside to begin the party.

At the end of the evening a star-shaped piñata is broken. The star symbolizes the one that guided the three Kings to Jesus birthplace.There can be many posada during advent culminating with a final one on December 24 that is followed by a midnight mass.

This traditional cookie recipe served at Posadas was adapted from the book China Bayles Book of Days by Susan Wittig Albert.

Biscochito
6 cups flour

3 tsp. baking powder

¼ teaspoon salt

2 cups shortening

1 ½ cups white sugar

2 tsp. anise seed

2 eggs

¼ cup brandy

¼ cup white sugar

1 tsp. ground cinnamon
Sift flour with baking powder and salt. Cream shortening with sugar and anise seed until fluffy. Beat in eggs one at a time. Mix into flour and brandy until well blended. Turn dough onto a floured board and roll 1/2 inch thick. Cut into shapes (fleur-de-lys is the traditional shape.) Mix sugar and cinnamon and dust each cookie. Bake at 350 degrees for 10 to 12 minutes or until golden brown.
December 17 -- Green Tea and Rose Facial Toner
A toner will adjust pH levels, remove residue from soaps and cleansers, tone and tighten pores and moisturize. This gentle toner is beneficial for all skin types.
4 ounces witch hazel

2 ounces rose hydrosol

1 Tbls. aloe vera gel

1 tsp. Green leaf tea

½ tsp. vegetable glycerin

2 to 5 drops rose geranium essential oil
Make an herbal infusion of the witch hazel and green tea by placing both in a glass jar with a tight-fitting lid. Shake the jar daily and allow the mixture to infuse 2 or more weeks. Once finished infusing, strain the green tea leaves out and reserve the remaining liquid. Mix the infused witch hazel with all the other ingredients and place in dark glass bottles.
December 18 -- Inspiration Stimulation
A delightful combination of sweet and savory herbs that will construct a creative frame of mind.
1 Tbls. Hibiscus

1 Tbls. Lemon grass

½ Tbls. Basil (Holy Basil if you have it is even better)

1 tsp. Rosemary

1 tsp. Cardamom seed (if you have pods crush and extract only the seed)
Combine in a container with a tight fitting llid and use 2 tsp. per cup of hot water. Allow to steep 5 to 7 minutes. You can combine this recipe into bundles or tea bags or even coffee filters tied with ribbon and place in a clear jar to give as a gift this holiday.
December 19 -- Energizing Bath Bag Blend
Need more energy this holiday season? This combination of energizing herbs could do the trick. Create this blend of herbs and use it for yourself or make up a batch with your family and give them as gifts. The recipe makes 8 cloth bags of bath blend.
½ cup lavender flowers

½ cup peppermint

½ cup spearmint

½ cup lemon grass

8 drops lavender essential oil

1

0 drops lemon grass essential oil

5 drops peppermint essential oil

5 drops spearmint essential oil
Combine all herbs in a plastic bowl. Add oils by the drop and stir with a plastic spoon or spatula (not with your hands.) Allow to meld for an hour and then place about ¼ cup in a cotton muslin bag or heat sealed tea bag.
TO USE: allow bath bag to steep in hot bath water for 3 to 5 minutes before bathing.


December 20 -- Spiced Mate'
Mate' or Yerba Mate is an herb with caffeine. For those who do not drink coffee this is the only herbal pick me up you get as all other herbal teas do not have caffeine. Hopeful this is just the jolt you need to get all of the holiday preparations and gifts finished.
Blend equal amounts of each of these herbs for a spicy seasonal treat:
Yerba mate

Anise

Cloves

Cassia

Allspice

Vanilla

Orange peel
Combine equal amounts of each ingredient and use 1 ½ tsp. per cup of hot water.
December 21 -- Soup Gift
Need a last minute gift, but running to the mall frightens you? Try this. You can get all the ingredients at the grocery store.
Black-eyed Pea Soup in a Pint Jar
1 ¾ cup dried black eyed peas

Seasonings: (place seasonings in a small zip seal bag)

¼ cup minced onion, dried

3 Tbls. chicken bouillon granules

1 Tbls. Parsley

1 ½ tsp. sugar

1 tsp. minced garlic

1 tsp. savory

½ tsp. chili powder

½ tsp. onion powder

¼ tsp. pepper

¼ tsp. garlic powder
Place all items in a pint mason jar with the following instructions:

Black-eyed Pea SoupRemove peas from jar, setting aside seasoning packet. Place peas in a colander and rinse with water. Place in a microwave safe bowl and cover with water at least 1 to 2 inches over the peas. Cover dish loosely with plastic wrap and Microwave on high for 15 minutes. Drain and rinse peas well. Add 6 cups of water and 1-14 ounce can diced or crushed tomatoes. Add seasonings from packet. Stir well. Bring to a boil. Lower heat, cover and simmer 1 ½ hours or until peas are tender, stirring occasionally.

Being so close to the holiday shipping is not an option, but you could get a gift certificate. We will email the certificate and the secret code they need to redeem it. To see the gift certificates, see this listing.

December 22 - Room Spray

I put this in a spray pump and then use it to spray a room to create a seasonal scent. You can also spritz the branches of your artificial tree. This is a strong spray which you can also just use to freshen seasonal potpourri

10 drops each of pine, spruce and fir needle essential oils

5 drops each of sweet orange, cinnamon and cedar wood

1/4 cup sweet almond oil
Combine ingredients in a spray bottle or jar and shake well before using.

December 23 -- Kwanzza Celebration

On December 26 (the day after Christmas) is the beginning of the special celebration of Kwanzaa. From the Swahili meaning first fruits of the harvest this is a celebration of many things among African Americans.

The foods of Kwanzaa are varied and reflect the diversity of African American culture in the United States. This recipe accented with turmeric and sesame seeds makes a wonderful side dish and a great addition to any Kwanzaa Celebration.

Sautéed Okra - Serves 6
1 Tbls. sesame seeds

1 Tbls. butter

3 onions, sliced

2 cloves garlic

1 pound fresh young okra, sliced

1

/8 inch thick

1 ½ tsp. ground turmeric
In a skillet, toast seeds until golden brown (about 2 minutes) stirring frequently.

Transfer to a bowl and set aside.

Melt butter in the skillet and sauté onion and garlic until transparent.

Stir in okra and turmeric.

Reduce heat to low and cook 15 minutes or until tender.

Sprinkle with toasted sesame seeds.
For more on celebrating Kwanzaa check out the book Complete Kwanzaa by Dorothy Winbush Riley
December 24 -- Simmering Spices
Simmering Spices
Slice
1/2 an orange into thin slices

Slice 1/2 a lemon into thin slices

10 whole cloves

2 bay leaves

2 cinnamon sticks

2 to 3 cups water
Place all ingredients in a medium sauce pan and simmer on the back of the stove. Add more ingredients as desired to keep your house smelling delightful for the holiday season.

December 25 -- Christmas Breakfast
Serve this special treat on Christmas morning and create a new family tradition!
Souffle Ricotta Pancakes with Orange Maple Syrup - Serves 4 to 6
1 orange, cut into eight wedges

1 cup water

1 teaspoon honey

2 cups pure maple syrup

1 ½ cups all-purpose flour

1 teaspoon baking soda

1

teaspoon baking powder

1/2 teaspoon salt

2 tablespoons sugar

3 large eggs, separated

1 1/3 cups buttermilk

½

cup ricotta, drained in a sieve for 1 hour

Unsalted butter for frying
To make the orange maple syrup, in a saucepan over high heat, combine the orange wedges, water, and honey and bring to a boil. Reduce the heat to medium-low and simmer until the liquid is reduced to 1/2 cup. Strain into a clean saucepan, add the maple syrup, and stir over low heat to combine. Set aside.
Preheat the oven to 200°F. Place a platter in the oven to warm.
In a large bowl, whisk together the flour, baking soda, baking powder, and salt until blended. In a medium bowl, whisk together the sugar, egg yolks, buttermilk, and ricotta until smooth. In another medium bowl, using an electric mixer, beat the egg whites until soft peaks form.

Add the buttermilk mixture into the flour mixture and stir just until blended.

Stir in 2-3 tablespoons of the egg whites to lighten the mixture, and then fold in the remaining egg whites, being careful not to deflate the batter too much.
Heat a griddle or nonstick frying pan over medium-high heat. When hot, add 1/2 teaspoon of butter. Using a ¼ cup measure, pour the batter onto the griddle, spacing the pancakes about 2 inches apart. Cook until the pancakes are golden on the underside and small bubbles appear on the top, about 2 minutes. Turn over and cook the other side until golden, 1-2 minutes longer. Carefully transfer each pancake to the warmed platter. Repeat with the remaining batter, adding more butter as needed.
Serve warm with the orange maple syrup.