Advent Calendar 2011
As published Advent Calendar from 2011
This Advent Calendar will give you a multitude of herbal items to craft for your freinds and family. We posted this daily for Advent in 2011 and have recreated it here to share as we post new Advent Calnders each year.
And if you wish to see the Advent Calendars from previous years which featured other recipes and crafts including teas, bath items and yummy tasty things, here are the links:
Thank you and enjoy the holiday!
Originally these were posted on the website in reverse order with the most recent day at the top. We have now reordered them from first to last.
Mint Cookies – Nov 27 Can a winter holiday be complete without peppermint? We decided to offer this item first, especially since it is an easy cookie to make and a crowd pleaser.
• 1 cup butter (or 1/2 cup butter and 1/2 cup shortening – I use butter flavor shortening)
• 1/2 cup sugar
• 1/4 teaspoon salt
• 1 teaspoon peppermint extract
• 2 tablespoons crushed dried peppermint leaves
• 2 cups flour
• Sugar
Directions:
Cream the butter and sugar. Add the salt, extract, mint leaves, and flour. Mix thoroughly. Chill the dough for 1 hour, or until it is firm enough to handle.

When ready to bake, preheat the oven to 350 degrees. Form the dough into 1-inch balls and roll them in sugar. Press each ball with your thumb. Place them on ungreased baking sheets and bake 12 to 15 minutes. Cool on racks.

For variety, you could add chocolate chips or nuts, roll the balls of dough in mint sugar or glaze the baked cookies with pale green icing or melted milk-chocolate candy.
Thank you Tea – Nov. 28 Herbal Tea Day - Thank You Herbal Tea
Prepare this ahead of time to thank all those people who are special to you. Say "Thank you" in a special way by giving the recipient this fine herbal tea to enjoy. It is a savory and refreshing tea.
¼ cup lemon balm

1 ½ tsp. rosemary

1 ½ tsp. sage
Blend herbs together and package with instructions: Use 2 tsp. per cup of boiling water. You can place the herbs in any style container!
The Backyard Patch has a Monthly Tea Subscription. Uniquely prepared tea blend packages mailed on a monthly basis to your special recipient. Available in 3, 4, 6, and 12 month subscriptions.
Hearty Herb Blend – Nov. 29
The Backyard Patch crafts 100s of herbal blends for cooking, but if you have some dry herbs you can also make your own. A blend crafted by your own hand always makes a special gift. Since proportions are the key to flavorful blends we have done the hard part for you. Just follow this recipe using any size measure for the part and you can create a savory blend good with meats and seasonal dishes.
Hearty Herb Blend
2 parts dried rosemary

2 parts dried savory

1 part dried thyme

1 part dried marjoram
Blend together in a jar and shake to mix. Grind fine to use in a shaker or leave coarse to crumble into dishes. Great salt substitute. Good rubbed on roasts or added to stews. If you enjoy Seasoning Blends of this style, the Backyard Patch makes an entire set of Herb Seasonings, Salt Substitutes and Seasoned Gourmet Salt that may be exactly what you are looking for. See them all here: Backyard Patch Cooking Blends
Bubble Bath – Nov. 30
Homemade bubble bath is not as bubbly as commercial varieties and the suds don't last very long, but you can revel in the fact it is all natural and you made it yourself..
Lavender and Lemongrass Bubble Bath
½ cup liquid Castile soap

1 Tbls. vegetable glycerin

1 Tbls. Epsom salts

1 tsp. Jojoba oil

30 drops lavender essential oil

10 drops lemongrass oil
Mix all ingredients together and store in a sealed glass jar. Pour at least 2 Tbls. into running water.
See this link for a full list of Backyard Patch Bath items.
Cinnamon Stick Flower Pot – Dec 1
These smell soooo good! You will love them for potpourri (come back on Dec 7 for some recipes.) They are also great to hold red wrapped cinnamon candy or peppermint swirls!
Use a hot glue gun to glue cinnamon sticks to a flower pot. You want the cinnamon sticks to be the length of the space between the lip and the base of the pot. Cut the sticks with a serrated knife if necessary to be uniform. Tie a decorative ribbon around the lip of the pot. Use the pot to hold potpourri for yourself or as a gift.
Cinnamon is a perfect seasonal cooking item and the Backyard Patch has made the perfect seasoning in our Cinnful Dessert Blend.
Shaving Balm - Dec 2
2 Tbls. dried comfrey

2 Tbls. dried chamomile

2 Tbls. dried calendula

¾ cup witch hazel

1 Tbls. vegetable glycerin

1000 – IU vitamin E capsule
Place dries herbs in a jar add witch hazel. Seal security. Store in a cool dry place for 2 weeks, shaking daily. Strain liquid, pour into a bottle. Add glycerin and contents of capsule.
To Use: Shake well and pat onto skin after shaking.
Citrus Zing Body Splash – Dec 3
A refreshing, clean blend that is wonderful to use chilled in warmer months. Body splashes are a lightly scented toner that helps hydrate the skin, balance the pH level and remove excess perspiration and oil.
Juice of ½ lemon strained

½ cup witch hazel

½ cup distilled water

10 drops neroli essential oil

5 drops lemon essential oil

5 drops grapefruit essential oil
Combine all ingredients in glass spritzer bottle. Shake well before use.
To Use: Shake well then spritz over your body after bathing. Let you skin air dry. Store in refrigerator between uses.
Exotic Herb Rice – Dec 4
Holiday cooking is usually about traditional recipes, but why not make the meals in between the holidays a bit special with something with an exotic and unique flavor.
1 cup rice

1-3 Tbls. dried calendula

1 umbel of fennel (flowers)

or sweet cicely, in spring

1 Tbls. chervil, fresh or dried

1 Tbls. Tarragon, fresh or dried

1 T salad burnet, fresh or dried

1 Tbls. sweet cicely, fresh or dried

4 T chopped chives

1 tsp bouillon (chicken or beef depending on dish served with it.)

4 Tbls. Butter
Add calendula while cooking rice using typical directions, and then add herbs, bouillon & butter. Serve with chicken or beef.
Herbal Jelly in a Microwave - Dec. 5
Each of these small batch microwave jam combinations makes just two cups of jam. That's enough to make two one cup jars - one to keep for yourself, and one homemade gift in a jar!

Do not double these recipes - for larger batch jam cooking in the microwave, consult a reputable microwave cookbook, or the cookbook that came with your microwave, for appropriate cooking times. Ingredients:
Diced or crushed fruit and flavor
1/2 cup sugar
1/2 tsp. butter or margarine
Prepare the fruit and place in an 8 cup glass measure with a spout (or a 2½ to 3 quart casserole dish). Stir in sugar and let stand until juices form - about thirty minutes. Microwave on High for 10-14 minutes, stirring every 2-3 minutes. Spoon out 1 tbsp. of jam, refrigerate for 15 minutes and test consistency. If you like thicker jam, re-heat to boiling then microwave for 2 more minutes. Makes 2 cups.

Storage:
These jams will keep for several months in the fridge; freeze for longer storage. Use any small, clean jam jars with tight-fitting lids.

Canning:
For pantry storage, use 2 one-cup canning jars. Scald jar lids and bands for 5 minutes, and keep lids in scalding water until ready to use. Sterilize the jars by boiling for 15 minutes; fill immediately with hot jam, leaving ¼ inch of head space. Pour jam into hot jars, skim off foam and add more jam, if needed, to maintain ¼ inch headspace. Wipe rims clean with damp cloth. Place lids on jars and screw down tightly. Let cool. Press lids to test seal - if they stay down the jars are sealed. (If you feel that a jar hasn't sealed properly, stay on the safe side and store in the fridge or freezer.)
St. Nicholas Day! -- Dec. 6
Make these cookies to share with friends, by slipping them into a special gift you tuck into thier shoes and enjoy this simple Norwegian tradition.
St. Nicholas Day Cookies
1 cup butter, softened

1 Tbls. powdered sugar

½ to 2 Tsp. almond extract

2 cups flour

¼ cup ground walnuts (you can substitute pine nuts or almonds)

¼ cup additional powdered sugar for rolling cookies after cooling
Cream butter and add 4 Tbls. powdered sugar and almond extract. Beat until creamy. Mix in flour and walnuts. Roll dough into one large ball and chill for a few hours (if you do not do this you will get flat not ball shape cookies.) After dough has chilled, preheat oven to 375 degrees F. Roll dough into small balls (about ¾ of an inch) and place 1 inch apart on baking sheet lines with parchment. Bake for 20 min. or until tops are slightly cracked and the bottoms begin to turn golden. Cool on wire racks. When completely cool, toss in a bowl of powdered sugar until coated. Makes 4 doz.
Design Your Own Potpourri – Dec 7
Potpourri is a great way to bring the scents of the season alive. You can place these in a decorative bowl, tie them in a bag and hang them from the front door, or scatter them along the mantle or under the tree to scent the air. Here is how to make your own Potpourri:

Step A: Select as many ingredients from this list as you like, or add your own ideas:
pine needlesRosemarytiny pine conesbay leavescinnamon sticks or piecesdried berrieswhole allspicewhole cloveswhole nutmegstar anisecaraway seedcardamom podsrosehipsdried citrus peel or piecesoak moss(there are many suppliers of potpourri ingredients, so use your imagination!)
Step B: Select a fixative: orris root, potpourri magic, crushed corn cob, oak moss, etc.
Step C: Select a scent: cinnamon, clove, orange, spice, evergreen, Christmas…your favorite scent to match the occasion.
Step D: In a separate container mix 2 Tbls. fixative with 14 drops (or more to your preference) of your fragrance. Set aside to meld (Use 2 Tbls. scented fixative to 1qt. Of dried mix.)

Step E: Place your selected potpourri ingredients (except scent and fixative) in a large bowl and mix well.
Step F: Add fixative and scent to potpourri ingredients and toss gently.

Step G: Allow to cure for 2 weeks, tightly covered, in a cool dark place to mature the blend. Stir or shake occasionally. In a pinch you can put the mixture in a container that is tightly sealed or shrink wrapped with instructions to age for 2 weeks. If making a large quantity that you intend to package down, make sure you stir well between each package to keep the fixative evenly distributed.
Holiday Simmering Potpourri – Dec. 8

1/2 an orange, sliced

1/2 a lemon, sliced

10 cloves

2 bay leaves

2 cinnamon sticks
Simmer mixture on the stove in water. Add more ingredients as desired to keep your house smelling delightful for the holiday season.
Cinnamon is a perfect seasonal cooking item and the Backyard Patch has made the perfect cinnamon seasoning in our Cinnful Dessert Blend
December 9 Recovery Milk Bath
You can put some in a bath and lie there letting the aroma gently soothe you, or rub it onto your body and wait for the magic to work.
3 Tbls. powdered milk

1 Tbls salt (or Epsom salts)

2 teaspoons runny honey

5 drops rosemary essential oil

3 drops peppermint essential oil

3 drops lemon essential oil

1 drop ginger essential oil

Directions:

Blend the powdered milk, salt and honey in a bowl.

Add the essential oils and mix well.

Keep in the refrigerator for no more than 5 days.
To use Bath: Place the mixture into the bath under running water. Lie back and relax for at least 15 minutes
To use Shower: - take a handful of the mixture and gently rub over your arms, legs and tummy is small circles.
The Backyard Patch makes two Oat Baths a Soothing and a Rejuventating. They both contain ground oats, salts and a perfect combination of essential oils.
December 10 - herb teas
As the holiday approaches one's nerves tend to fray. To do lists get longer, the days get shorter and the overall atmosphere can raise our stress levels. So today I thought I would share a few herbal tea recipes that will help you relax. If you want another relaxation tea without the hassle of blending it yourself we recommend Calming Spirit.
Tea for Nervousness
1 ½ oz Peppermint leaves

1 ½ oz Lemon Balm leaves
Blend together in a glass jar and shake well. Use 1 tsp of mixture per 1 cup boiling water. Steep 10 minutes & strain.
Quiet Child Tea
Good for anytime of the day or right before bedtime.
1 part raspberry leaves

1 part catnip

1 part each spearmint & skullcap leaves

1 part calendula flowers
Place all herbs in a tea ball or bag, put in your nicest or most favorite cup or mug, and cover with boiling water. Steep for 10 minutes. Remove tea ball or bag, and add sugar, honey, sweetener, milk, cream or whatever, to the child's taste.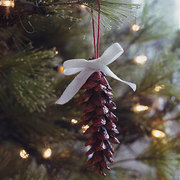 December 11th Savory Herbal Jelly
1 Tbls. fresh or dried summer or winter savory

½ cup boiling water

1 ½ cup unsweetened cranberry juice

3 cups honey

2 tsp. lemon juice

1 box powdered pectin
Make an infusion (tea) of savory and water. Let steep 5 minutes or more. Strain. In large sauce pan combine juice, honey, and infusion liquid and bring to boil. Add pectin, stirring at all times. Heat until mixture reaches a hard boil. Boil hard for 30 seconds and give a sheet test. Once it passes the sheet test remove instantly from heat. Pour into sterilized jars with a sprig of fresh savory in each, seal. Sheet test –Dip a metal spoon into the boiling syrup. As the boiling mixture nears the jellying point, it will drop from the side of the spoon in two (2) drops, (not a stream). The jelly is finished and should be removed from the burner.
December 12th - Fire Place Fragrance
For heady long lasting winter fragrance, press cloves into oranges to make pomanders. Display several in a dish with a selection of herbs and spices, such as bay, eucalyptus, juniper berries and cinnamon. Make a fire place fragrance with a number of stems of woody herbs, like sage, rosemary, or mints and tie them with raffia or jute. Toss the bundles onto a wood fire to release the rich aromas.
If you love fragrances, try our scented bath items and sachets. You will love the way herbs brighten the day even though the daylight is so short.
December 13 -- Healing Salve Dry Skin Treatment
2 Tbls. lavender infused oil

2 Tbls. peppermint infused oil

1 Tbls. cocoa butter

2 tsp. beeswax

1

5 drops peppermint essential oil

1

5 drops lavender essential oil
Melt the cocoa butter and beeswax together and add the infused oils. Stir and allow to cool slightly until the mixture startes to harden and yellow slightly, before adding the essential oils and blending thoroughly. Pour into jar or mold and label..

To create an infused oil, use this simple method:First choose clean dry herbs. If you are using fresh, allow them to wilt for up to 24 hours to evaporate as much water as possible. Chop them up and cover with the oil you'll be using (canola, vegetable, almond, walnut or even olive will work). A small crock pot (such as those used to keep dips warm is ideal, but any source of low heat will work.) Do not allow the herbs to simmer or boil. This oil should just be warm, 120 degrees or so. Allow them to heat gently between 4 hours for leafy herbs to 24 hours for roots, bark and seeds. The oil may or may not change in appearance and scent, depending on what herb is infused. It will, however, pick up the medicinal properties of the herb. Then strain the oil through coffee filters or cheese cloth to get a nice clear finished oil. Bottle in a clean dry jar and label. Remember oil can go rancid, so do not keep indefinitely (2 months max. and keep in the refrigerator.)

December 14 Snow Flakes

I love snow. My favorite decoration item is snow flakes. I have silver ones, lighted ones, snow flake dust to put on the mantle, glass ones and now I have these crystallized ones. This is a great project to do with kids. Now you do not have to live in the north to have snowflakes! Ingredients:
Pipe cleaners or thin bendy wire

Very hot water

*Epsom Salts (how much you need depends upon the size of your glass jar)

Glass jar

pencil or wooden stick

6 inch piece of string or ribbon
* you can use Borax instead of Epsom Salts if you wish
Directions:
Cut your pipe cleaners in to a length of about 2.5 inches. You will need 4 pieces of pipe cleaner in total. Twist the pieces together to form an eight sided star shape.

Tie your piece of string or ribbon to the very top of the snowflake.

Pour very hot (just boiled) water into the jar or glass container so that it is three quarters full.

Add your Epsom salts and stir until dissolved. Keep adding more Epsom salts and stirring until you have saturated the liquid and no more can be dissolved. It is fine to have a few Epsom salt crystals lying on the bottom of the jar.

Add a drop of food coloring in the water if you want colored snow flakes and stir into the water (add more if you want darker colored crystals).

A drop or two of essential oil will impart a gentle scent.

Place your snowflake shape into the liquid in the jar so that it is immersed completely. Tie the ribbon or string to the pencil (or stick) so that the snowflake is suspended in the jar and not touching the bottom.

Leave somewhere for 24-48 hours and watch the crystals start to appear.
December 15 -- Champagne Bath Truffles
This is a great treat for you or can be made as a gift. You just need a bit of left over champagne!
Ingredients:
1 ¼ cup baking soda
7 Tbls. citric acid
3.5 Tbls. cocoa butter (or half a part if there's such a thing)
a little left over champagne
1 tsp. or less of your favorite essential/fragrance oil (optional)
a little gold mica and/or cosmetic grade glitter (optional)
Directions:
Melt the cocoa butter.

Place baking soda and citric acid in a bowl and mix well.

Add the champagne to the melted cocoa butter - how much champagne? Well hopefully you won't have too much left in the bottle, but about 5 tsp. is plenty (about a third of a champagne glass). Do not use too much because you do not want a sloppy mix.

Pour the champagne/cocoa butter into the baking soda/citric acid mixture and mix well.

Add your fragrance/essential oil if you are using it and mix again.

Add your gold mica and/or glitter if you are using them and mix again.

Place into molds - ice cube trays, little petit fours cases, small cup cake pans. Leave to set.

.
Directions for use: Run a warm bath, pop a champagne bath truffle into the bath and enjoy..The Backyard Patch has crafted many bath salts and scrubs. If you want something similar to this and do not have the extra chapagne to make these truffles, I recommend our Fizzy Milk Bath or Fizzy Bath Salts.
December 16
Refresh the House with a Baking Soda Carpet Deodorizer
This is a quick, easy and inexpensive way to make a deodorizer for your carpeting and you can use whatever herbs are on hand. And this time of year a bit of cinnamon or nutmeg will give you a seasonal scent.
1 cup baking soda

1 cup dried herbs or flowers
Blend the herbs into the baking soda and sprinkle out onto the carpet. Let it set for an hour or more, if possible, then vacuum up.
The blend will refresh the carpet, not harm pets and until you change the vacuum bag you can relive the scent every time you run the sweeper. I make a Carpet Freshener called Vacuum Freshener because it works on both.
December 17 Another Herbal Tea Day!
As the days get shorter and shorter, ones energy wanes so we crafted this perfect tea to lift your spirits and your energy. If you do not have the time or the herbs available to make this tea we recommend the Backyard Patch blend called Afternoon Lift. It is a similar combination and was crafted to lift you from the afternoon doldrums.
Uplifting Herb Tea
1 Tbls. chamomile

1 tsp. Lemon balm

1 tsp. Lemon grass
Blend herbs together in a glass jar and shake to blend. Add to 8 ounces of boiling water and steep for 5 minutes. Serve hot or cold.. As a special uplifting gift, you can order any of our Tea Samplers.
I make the Backyard Patch Marcy's Dill Dip mix with many more than 3 herbs, but this version is simple, easy and very tasty. Because it uses herbs most people keep in the kitchen, it can be made on a whim. This little parsley dill herb sachet makes an easy dip for a platter of mixed vegetables. You can give it easily as a hotstess present or to a freind. Tuck it in as an extra time-saving treat along with a gift of cheese and crackers to provide a lovely gourmet touch with a homemade feel that you just can't buy at the store.

What You Will Need:
2 Tbls fresh or dried chives

2 Tbls. fresh chopped parsley (or 2 tsp. dried)

2 Tbls. chopped fresh dill (or 1 Tbls dried dill weed)
Use a sandwich bag and fill the corner. Make a label and put the instructions (below.)
Directions for Use: Mix one cup of sour cream and one cup of mayonnaise. Stir in parsley dill mix. Chill until ready to serve with a platter of mixed vegetables, chips or crackers.
December 19 - Rosewater
At the holiday we are always short on time, but you can still make up some rose water for yourself, using a non-distilled method. It is not as strong, but so much faster and easier. Rose is soothing to the skin and can be used as a toner or as a cleanser as well as a flavoring in foods and drinks.
Rosewater
If you do not have time to distill your own rosewater, you can create rosewater, using a much simpler method. Your water may not be a fragrant as the distilled method, but the results are very pleasant and you can use the mild rose scented liquid as a light fragrance, after-bath splash or skin toner. It also makes a nice addition to homemade creams and lotions.
1 cup firmly packed rose petals, washed

2 cups boiling water
Place rose petals in a ceramic or glass bowl. Use only fresh petals (no leaves or stems). Pour boiling water over petals, and allow to steep until cool. Strain off the petals and pour the scented liquid into a clean bottle.
10 ways to use Rose Water:
Use it neat as a toner

Use 3 Tbls. rose water with 1 tsp. vegetable glycerin as a cleanser

Gargle with it to sooth sore throats

Mix it with Bombay Sapphire gin, champagne and elderflower syrup for a Blue Cupid cocktail

Mix it with icing sugar for rose flavored cake icing

Pour a teaspoon of it over vanilla ice cream

Spray a little onto your pillow case

Add to whipped cream and serve with fruit salad

Add it to your warm bath water with a handful of dried milk powder for a luxurious skin softening soak

Add it to lemonade for a refreshing, thirst quencher
December 20 - Scent your holiday Light Bulb Scent
When the holiday seems to be making people edgy and annoyed, I will resort to my secret weapon..... get that Christmas Spirit emanating from various light bulbs. Now if you have switched to the energy efficient bulbs, then check out other ways I detailed below for using these scents around the house in other ways.
Ingredients:
4 parts Bergamot Essential oil (uplifting)
4 parts Mandarin or Neroli Essential Oil (calming)
2 parts Juniper berry Essential Oil (energizing)
2 parts Patchouli Oil (sharpens wit, aphrodisiac (well it is Christmas!))
1 part Cinnamon Essential Oil (relieves tiredness)
Directions:
Blend essential oils together and place in a bottle with dripper lid.
Directions for Use: Rather like hunt the thimble, you now need to hide dabs of Christmas Spirit blend in different places. Great hiding places include: Place a few drops onto a crumpled tissue and hide it down the back of the radiator. As the heating comes on, it will warm up the tissue and release the aroma. Drop into an infuser on the bulb or on the bulb itself. Place a few drops on a cotton ball and tuck under the front edge of the TV.
December 21 -- Another Herbal Tea Day
Soothing Throat Herbal TeaNow that winter has officially arrived the days are shortest and we often get sniffles and sore throats. This herbal tea blend possesses a lovely, soothing taste that will relieve dry scratchy throats and other similar ailments.
Soothing Throat Herbal Tea
2 parts Linden flowers

1 part elder flowers

½ part rose hips

½ part Plantain

½ part mallow flowers.
Blend herbs together in a glass jar and shake to blend. Use 1 to 2 tsp. per cup of hot water and steep for 7 to 10 minutes.
If you find Linden and Elder flowers in short supply in your home, we recommend trying Backyard Patch Rest Easy and Winter Remedy for relief of coughs, sniffles and sore throats.
December 22 -- Make an Herb Ball
Here is a lovely way to use herbs to make Christmas ornaments for your home or gift giving. This simple craft is elegant and can be changed to use up any herbs that you have on hand. And a few days before Christmas it will give you a project to set the kids on that requires little supervision!
Materials:
Craft glue

Paint brush

Styrofoam balls

Dried flower petals or lavender buds

Ribbon
Instructions:
Fill a bowl with lavender buds or crumbed rose petals.

Hold styrofoam ball between two fingers and squeeze or paint on a layer of glue over approximately one half the ball. Enough so that it is not dripping, being careful not to spread too thinly.

Roll and press the glue area into the bowl of dried flowers or herbs. Press firmly and roll back and forth, to get a thick coating. Remember that some of these will fall off, so you want to add more than what you need for the final product.

Hold the ball again, and add more glue to the other half.

Repeat these steps until the entire ball is covered with herbs.

Let it sit for at least 10 minutes for the glue to become tacky. This step will keep the most flowers or herbs in the glue.

7.

Create a ribbon bow, with a long loop for hanging. Place ribbon bow on the top of the ball, and pierce the knot with a pin. Push the pint ton the top of the covered ball. If you push the pin in at an angle, it will hold much better. Hang your decoration!
December 23Layered Soup in a Jar
Need a gift in a hurry. This is simple, easy and you make it yourself so you give the joy of a hand-produced gift.
Tortellini Spirals Soup
2 Tbls. dried basil
1 tsp. Herbs de Provence
1/2 tsp. celery seed
1/2 tsp. garlic powder (not garlic salt)
1/4 tsp. ground pepper
1/4 cup dried onions; 4 chicken bouillon cubes
3/4 cup dried tortellini
tri-colored spiral pasta to fill the rest of the jar
1 quart clean empty mason jar and lid
Instructions:
Starting with the herbs and ending with the pasta, layer the ingredients, in the order given, using a wide-mouthed 1-quart Mason jar. If you want a more formal look, separate the tri-color pasta and make a layer of each color.

Make a label with instructions for preparation and tie it on with decorative ribbon. For added spice, cover the top of the jar with a circle of fabric held in place with a rubber band. Cover the rubber band with a twist of raffia or a ribbon and small bow.
Directions for Use: 1 jar spiral soup mix8 cups water2 cups crushed or diced tomatoesBring water and tomatoes to a boil in a large soup pot. Add the spiral soup mix and simmer uncovered for about 15 minutes, or until pasta spirals are tender.
December 24
This perfect minty blend will help you stay awake for Santa's visit.
Frosty Mint Tea
½ cup dries spearmint

½ cup dried peppermint

½ cup black tea

1 Tbls. Cracked cinnamon chips
Mix all ingredients well and store in a tight fitting glass jar. Directions To Use: Place 1 tsp. in a tea infuser and pour over one cup of boiling water. Steep for 2 or 3 minutes. It is just perfect stirred with a candy cane.
December 25th.
I hope your holiday is wonderful and filled with sweet memories! As the holiday festivites continue I thought I would end the calendar with a special treat for you to make to ease the tension form all the events in your life. The wonderful soak is great for Santa and all his helpers!
Muscle Ease Post-Christmas Soak
7 Tbls. Sea Salt
3 ½ Tbls. Epsom Salts
3 heaping Tbls. Baking Soda
1 Tbls. Citric Acid
5 ½ Tbls. Dried Milk Powder
¼ tsp. Rosemary Essential Oil
¼ tsp. Eucalyptus Essential Oil
¼ tsp. Lavender Essential Oil
Directions:
Place all the dry ingredients in a large bowl and mix well.

Add the essential oils and mix again breaking up any clumps that may form.

Place in a suitable lidded container (jar or bottle.) Shelf Life: 18 months

Directions for use

: Check that the reindeer are fed and watered and settled after their mammoth round the world trip. Run a warm bath and scatter a good handful of the soak into the water. Climb into the bath, lie back and enjoy a muscle easing soak. You'll find that a glass of wine or whiskey helps too!