Recipe Archive
Spiced Right Pan-fried Potatoes
Melt the butter with the oil in a heavy skillet over medium-high heat. Carefully slice the potatoes directly into the skillet, cutting random thin pieces. Season with 2 teaspoons of the Potato Topper and salt to taste, if using. Use a spatula to mix well and stir the potatoes regularly as they begin to brown. After 5 minutes or so, reduce the heat to medium; cover. Continue to cook and stir. When the potatoes are cooked through, season with remaining teaspoon of Potato Topper blend; cook and stir for another minute. Serve hot, makes 4 to 6 servings.
Another nice way to use this blend is for boiled potatoes: Boil new potatoes in plenty of water. When they are cooked through, drain off all but 3 Tablespoons of the water. Smash the potatoes with some butter and Potato Topper.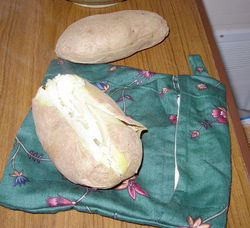 Twice Baked Mashed Potatoes
4 lbs of potatoes
1 Tablespoon Backyard Patch Ranch Dressing Mix
2 Tablespoons butter
1/2 cup milk
2 Tablspoons sour cream
salt & pepper to taste
Boil potaotes and drain, then mash together with Ranch Salad Dressing Herb Mix, along with butter, milk, sour cream and salt & pepper to taste.
Place in crocks, a baking dish or saved potato skins and bake for 30 minutes at 350 degrees until slightly browned on top. Serve hot.