Recipe Archive
Chicken Ragout (Ragu) - Sept. Rof M
Chicken Ragout
with Olives, Oregano & Cilantro
3 cups chopped yellow onion

2 lbs. Tomatoes, peeled, seeded and chopped

6 garlic cloves, peeled & crushed

½ lb. Oil-cured black olives, pitted & chopped

½ cup fresh oregano leaves

½ cup unbleached or all purpose flour

½ tsp. Ground black pepper

8 chicken breast halves (boneless & skinless)

¼ cup canola oil

2/3 cup dry red wine

2/3 cup dry white wine

¼ cup dry port

2 Tbls. red wine vinegar (or herbal vinegar)

½ cup fresh cilantro leaves

¼ cup lemon juice
Directions:
Heat oven to 350ºF.

Combine the onions, tomatoes, garlic, olives, and oregano in a large bowl.

Combine the flour and pepper in a flat pan or dish.

Dredge the chicken breasts in the flour mixture. Shake off the excess.

In a large, heavy-bottomed nonstick skillet, heat the oil over medium heat. Add the dredged chicken breasts in a single layer, pressing down gently on each one to brown the entire surface.

Cook each side about 4 minutes, or until golden brown.

Remove the chicken breasts to a baking dish large enough the hold all the chicken in one layer.

Put the tomato mixture in the skillet and deglase the pan, then cook, stirring occasionally, about 10 minutes, until vegetables are soft.

Combine red and white wines, port, and vinegar in a small saucepan. Cook over medium-high heat until reduced to 1 cup.

Spread the tomato mixture over chicken breasts and pour on the reduced liquid. Bake for 30 minutes, or until the chicken is tender.

Remove the chicken breasts to a platter.

Stir the cilantro and lemon juice into the wine sauce and pour over the chicken.

Serve immediately. Serves 8.
MARCY NOTES: I like to brown the chicken, make the sauce in the skillet and put everything into crockpot. Then I make the wine sauce just before I serve. It is a tottaly different meal int he crockpot, but just as good!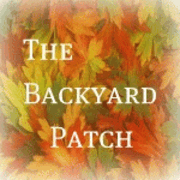 Chili Mac...healthy version
Adapted from Cooking Healthy 2009
6 Servings


Ingredients

2 cups uncooked whole wheat elbow macaroni
1 pound lean ground turkey
1 small onion, chopped
2 to 3 jalapeno peppers, seeded and chopped
2 garlic cloves, minced
2 teaspoons olive oil
1 can (15 ounces) black beans, rinsed and drained
1 can (14-1/2 ounces) Diced Tomatoes, undrained
1 can (8 ounces) Tomato Sauce
1 to 2 tablespoons hot pepper sauce
2 to 3 teaspoons Backyard Patch Chili Blend or regular chili powder
1 teaspoon ground cumin
1/4 teaspoon cayenne pepper
1/4 teaspoon black pepper
3/4 cup shredded reduced-fat cheddar cheese
Directions:
Cook macaroni according to package directions.

In a large nonstick skillet coated with cooking spray, cook the turkey, onion, jalapenos and garlic in oil over medium heat until meat is no longer pink; drain.

Add the beans, tomatoes, tomato sauce, pepper sauce and seasonings.

Drain macaroni; stir into turkey mixture. Cook over medium-low heat for 5 minutes or until heated through.

Sprinkle with cheese.

Remove from the heat; cover and let stand until cheese is melted.
Yield: 6 servings.

Marcy's Note: When cutting hot peppers, disposable gloves are recommended. Avoid touching your face.