Recipe Archive
Scroll down for June & July recipes of the month
One-Dish Chicken and Rice (Asopao de Pollo)

Serves 8

1 tablespoon(s) extra-virgin olive oil
2 1/4 pound(s) boneless, skinless chicken thighs, trimmed and cut into 2-inch pieces
4 Anaheim or poblano chile peppers, chopped
1 small onion, chopped
1 tablespoon dried oregano, crushed
1 teaspoon sweet paprika
1 teaspoon salt
1 can tomato sauce
1 tomato, chopped
1 can pimientos, rinsed
8 pimiento-stuffed green olives, sliced
2 tablespoons capers, rinsed
8 cups water
2 1/2 cups brown rice
2/3 cups packed chopped fresh cilantro
Directions

Heat oil in a Dutch oven over medium-high heat. Add chicken, chiles, onion, oregano, paprika and salt and cook, stirring, until the onions have softened, 3 to 5 minutes.

Add tomato sauce, tomato, pimientos, olives, capers and water and bring to a boil. Stir in rice; return to a boil. Reduce heat to a simmer and cook, uncovered, until the sauce is thick, the rice is tender and the chicken is cooked through, 35 to 45 minutes. Stir in cilantro and serve.
Note: Anaheim chiles (a.k.a. New Mexico chiles) are 7 to 10 inches long, ripen from green to red and are mildly spicy. Poblano peppers (sometimes called pasilla peppers) are dark green in color, about 6 inches long and can be fiery or relatively mild; there's no way to tell until you taste them. The two can be used interchangeably and are found at most large supermarkets.
.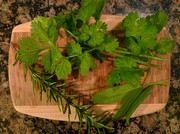 Zesty Seafood
Zesty Lemon Seafood with Zippy Salsa
This recipe uses Zesty Lemon and Rosy Bite (my favorite Backyard Patch Teas!) for a unique citrus flavor and a great pinky color.
4 Zesty Lemon tea bags (or 4 generous teaspoons loose, divided)
1 Rosy Bite Tea bag (or 1 generous teaspoon loose)
½ cup vinegar
¾ cup diced tomatoes (plum are my favorite and you can use canned or fresh)
½ cup diced cucumbers
3 Tbls chopped chives (3 tsp. dried)
2 cups water
4 white fish filets, like Sea Bass or Tilapia
Prepare Salsa first. Steep 1 Zesty Lemon tea bag (or 1 tsp. tied in a circle of coffee filter) in vinegar in a bowl for 15 to 20 minutes. Remove the bag of tea, squeezing out excess vinegar and discard. Add the diced tomatoes, cucumbers and chives to vinegar. Chill covered in a non-reactive dish for at least 30 minutes.
Prepare fish. Bring water to a boil in a large saucepan; add the remaining tea bags (or combine loose teas together in a large coffee filter tied with string.) Lower water to simmer and steep for 4 minutes. Remove and discard bags of tea. Gently lay fish filets in the tea water. Simmer for 7 to 10 minutes or until cooked through. Carefully remove fish and serve topped with Zippy Salsa.
This is a wonderful poached fish that you can make in a hurry after work.
:
June recipe of the month
This is a perfect cold pasta dish for summer and the herbed wine makes it unique and exotic.
Recently on the

Backyard Patch Blog

I explained how to make Herbed Wine. This recipe uses herbed wine, but you can substitute a sweet white wine if you need to. To learn how to make Herbed Wine, see the blog "How To-sday - Making Herbed Wine."
Fusilli Pasta with Raisins and Herbed Wine
¼ cup herbed white wine

¾ cup golden raisins

4

oz. dried tri-color or plain fusilli broken (or any other corkscrew pasta)

2 Tbls. olive oil

2 Tbls. lemon juice

1 Tbls. fresh chives

1 Tbls. minced shallots

2 tsp Dijon-style mustard

¾ cup pitted Greek or black olives, quartered

¼ cup pine nuts or broken walnuts, toasted
Heat the wine over medium heat until warm and add raisins. Let stand for 15 to 30 minutes to plump. Drain raisins, reserving wine. Set aside.
Cook pasta according to package directions. Drain pasta, rinse with cold water, Drain again.
Toss together pasta and raisins.
Prepare dressing in a screw-top jar. Combine reserved wine, olive oil, lemon juice, chives, shallots, mustard, salt and pepper. Cover and shake well.
Pour dressing over pasta mixture. Toss to coat. Chill 3 to 24 hours before serving.
To serve, add olive and nuts to pasta. Toss and mix. Serves 6.
Spicy Garlic Dill Refrigerator Pickles
These are refrigerator pickles, meaning they are not actually canned and need to be kept in the fridge. Stuff about 2 to 3 pint sized mason jars with the cucumbers, sliced however you want, be sure to cut off the ends.

Just cram them in there, as many as you can.

Then with them add, PER jar (not total):

1 large sprig of fresh dill
1 big clove of garlic (quartered)
1 tsp. dill seeds
1/2 tsp. red pepper flakes
1/2 tsp. black peppercorns

Then comes the brine:

1 c. white vinegar
1 c. water
3 Tbls. sugar
3 Tbls. pickling salt (you can use regular salt but your brine will be cloudy)

Heat in a saucepan just long enough to dissolve the salt and sugar.

Let it cool, then pour into the jars. Let is settle a bit and then you can top them off. If the brine is still really hot, they pickle faster- but the cucumbers will get cooked a bit and won't be as crisp. If you wait until the brine is totally cold they'll stay nice and crunchy, but you'll have to wait longer for them to get all tasty.
Put the lids on the jars- tightly! Let them sit out at room temperature overnight to get started. Then place them in the fridge.

Wait for three days, if you can stand it. Then- enjoy!
Return to Recipe Archive