Recipe Archive
Vegetables
Carrots Tarragon
CARROTS TARRAGON
Serves 4
6 large carrots, peeled and cut into 3-inch long strips

2 Tbsp. butter

¼ tsp. white pepper

3 Tbls. chopped fresh tarragon (1 tsp. dry)

Directions:

Steam carrots until tender. While carrots are cooking, melt butter in saucepan. Add tarragon and pepper and simmer at low temperature. Drain carrots. Add butter and tarragon. Toss and serve.
Roasted Vegetables
Serves 8
This recipe can be made as written or using any mix of vegetables. Sweet potatoes are also very good with the recipe.
4 large potatoes, unpeeled, cut in chunks
1 medium-sized onion, cut into wedges
3 Tbls. vegetable oil
½ tsp. salt
Bunch of baby carrots
Pattypan or yellow neck squash, cut into chunks
½ lb. green beans
2 large red peppers, cut into chunks
2 large yellow peppers, cut into chunks
1 Tbls. chopped fresh thyme (1 tsp. dried)
1 ½ tsp. chopped fresh basil (1/2 tsp. dried)
½ tsp. ground pepper
1 large lemon, thinly sliced
In large roasting pan, toss potatoes, onion, oil and salt.
Roast at 425 degrees for 15 minutes
Add carrots, squash, beans, peppers, seasonings, and half of lemon slices.
Return to oven and roast for 45 minutes, turning occasionally.

Arrange vegetables on platter and garnish with remaining lemon slices.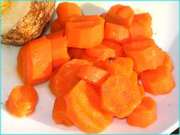 Sausage and Bean Soup (serves 6)
2 tablespoons olive oil

1 pound ground beef

1 pound hot Italian pork sausage, casing removed

1 large onion, chopped

4 cloves garlic, minced

3 1/2 cups Chicken Broth

1/4 cup chopped fresh basil leaves (frozen is good too, but with dry use only 1 TBLS)

1 tsp. dried garlic, minced or granulated

1 tsp oregano

2 (14.5 ounce) cans diced tomatoes

1 (16 ounce) can white kidney beans (cannellini), rinsed and drained

1/2 cup uncooked elbow pasta

1 (6 ounce) package fresh baby spinach leaves, washed

1/3 cup grated Romano cheese
Directions
Heat oil in saucepot over medium-high heat. Add beef, sausage and onion and cook until meats are browned, stirring to separate meat. Add garlic and cook 30 seconds.

Add broth, basil, dry garlic, tomatoes and beans. Heat to a boil. Cover and cook over low heat 10 minutes, stirring occasionally. Add pasta and cook until pasta is done.

Add spinach and cook just until spinach is wilted, stirring occasionally, add oregano. Remove from heat and stir in cheese. Serve with additional cheese.