Recipe Archive
Herb Seasoned Turkey
This is the recipe Chas & I used on our bird last year for Thanksgiving.
Ingredients
1 head garlic

4 tablespoons chopped fresh rosemary (2 Tbls. dried)

4 tablespoons chopped fresh sage (2 Tbls. dried)

4 tablespoons chopped fresh parsley (2 Tbls. dried)

4 tablespoons chopped fresh thyme (2 Tbls. dried)

1 pound unsalted butter, room temperature (you can substitute 1/2 to 3/4 cup olive oil to be health centered)

1 tablespoon coarse salt

Freshly ground black pepper

1 (14 to 16-pound) fresh or completely thawed turkey

1 cup water
Instructions
Preheat the oven to 350 degrees. Wrap the garlic in foil, and bake for 1 hour, until very soft. This can be done a day or two ahead.

In a small bowl, mix the rosemary, sage, parsley, and thyme with the butter. Squeeze the cooled, softened garlic head into the bowl. Stir together until smooth. Add the salt and pepper.

Preheat the oven to 400 degrees. Rinse the turkey, and pat it dry it with paper towels. Tuck the wing tips under the bird. Place the turkey on a roasting rack in a large roasting pan. Add the water to the pan.

Using your fingers, gently separate the skin from the flesh. Smear about 1/3 of the butter mixture under the skin. Pat the remaining butter mixture on the exterior and in the cavity.

Roast for 40 to 50 minutes. Place a foil tent over the turkey, and reduce the temperature to 350 degrees. Baste with juices or additional butter while roasting the turkey for an additional 2 to 3 hours, until it reaches an internal temperature of 180 degrees. The legs should rotate easily at the joint. A

Allow to rest for 30 minutes before carving. Save the juices to make a delicious gravy.

This recipe also works for a large roasting hen. Decrease the butter, herbs and garlic by half if using a smaller bird.
Herbal Christmas Cookies
I've been sharing cookies at Christmas since before I moved out on my own, so I would share my favorite recipes for herb flavored cookes with you. Enjoy and Happy Holidays from Marcy Lautanen-Raleigh and the Backyard Patch!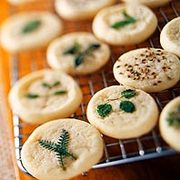 Lemon Herb Cookies
1 C. butter, room temperature
2 C. granulated sugar; divided
2 eggs
1 tsp vanilla extract
2 1/2 C. all-purpose flour
2 tsp. baking powder
1/4 tsp. salt
1/3 C. finely minced lemon herbs (lemon balm, lemon verbena, lemon thyme all work perfectly)
. Cream the butter and 1 3/4 C. of the sugar. Add the eggs and vanilla. Beat well. Combine the flour, baking powder, salt, and herbs. Add to the creamed ingredients and mix well. Drop dough by teaspoonfuls, 3 inches apart, on a greased cookie sheet. Flatten slightly with a fork or glass bottom, coated in sugar. Sprinkle lightly with the remaining sugar before baking. Bake at 350 F for 8 to 10 minutes or until just browned. Cool slightly and remove to a rack.
Return to the Recipe Archive!
Lavender Sugar Cookies
I adapted this Recipe from one I got through Bertha Reppert of the Rosemary House in PA. I think I actually obtained it from a freind who attended an openhouse there.
1 cup butter
1/2 cup sugar
1/4 teaspoon salt
2 cups flour
Lavender Sugar (below)
Cream the butter and sugar. Gradually add the salt and flour. Mix thoroughly. Chill the dough for 1 hour, or until it is firm enough to handle. Preheat the oven to 350 degrees. Form the dough into 1-inch balls and roll them in Lavender Sugar. Press each ball with your thumb. Place them on ungreased baking sheets and bake 12 to 15 minutes. Cool on racks.
Lavender Sugar
• 1 cup dried lavender blossoms
• 1 cup sugar (coarse, if available)
Mix thoroughly. Keep mixing this as you use it; it tends to separate.
Return to the Recipe Archive!