Recipe Archive
Chicken and Fish Seasoning
Create a BBQ styled rub using Backyard Patch N'Orleans Seasoning Herb Mix.
1 Tablespoon Backyard Patch Creole Seasoning
2 tablespoons of water
Juice of ½ lemon
2 teaspoons brown sugar
Salt to taste
Using the proportion of 1 tablespoon of seasoning per pound of meat, blend each tablespoon using the recipe provided above (substituting proportions). Add the seasoning to water first, then stir in lemon juice, sugar and salt. Rub onto meat and grill over medium heat. Perfect for Chicken and unique on fish!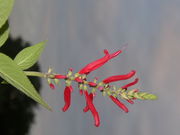 Herbed Cheese Omelet
The recipe can be prepared stove top as all egg dishes can, but this version was crafted for the microwave. Depending on your favorite flavors, you can use Marcy's Dill Dip Mix or Backyard Patch Butter N Cheese Herb Mix to craft these deliciously simple eggs.
3 eggs
3 Tbls. Milk
¼ tsp. Backyard Patch Butter N Cheese Herb Mix
¼ tsp. Salt
1/8 tsp. Pepper
1 Tbls butter
½ cup shredded Cheddar cheese
Beat eggs with milk and seasonings. Microwave butter in glass pie pan on high for 1 minute. Add egg mixture. Microwave, loosely covered on medium-high for 3 minutes, stirring once. Top with cheese. Microwave for 30 seconds until cheese is melted. Let stand, covered for 2 minutes. Serves 2.