Recipe Archive
Cinnamon Biscuits
2 Tablespoons granulated sugar

1 Tablespoon baking powder

1/3 cup cold butter, sliced

1 cup plus 2 Tablespoons milk, divided
Preheat the oven to 400 degrees. Combine the sugar and cinnamon in a small bowl. Set aside.
Combine the flour, baking powder and salt in a medium mixing bowl. Cut the sliced butter into flour using a fork or pastry blender until the mixture resembles coarse crumbs. Gently stir in the 1 cup milk just until a soft dough is formed. Turn the dough out onto floured wax paper and knead gently 6 or 8 times. Gather into a circle about 3/4" thick. Use a floured cookie cutter or juice glass to cut circles of dough.
Place remaining 2 Tablespoons of milk in a small bowl. Dip the top of each biscuit first into the milk and then into the cinnamon sugar, twisting just a bit in the sugar to coat well. Place on an ungreased cookie sheet, sugared side up.
Bake for about 12 minutes or until the bottoms are golden brown. Makes 2 dozen.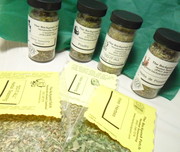 Baked Herb Tomatoes
·
4 large ripe tomatoes, sliced 1/4 inch thick
·
1/8 cup grated Romano cheese
·
1/2 cup fresh bread crumbs
·
salt and pepper to taste
·
1 tablespoon olive oil
DIRECTIONS
1.
Preheat oven to 400 degrees F (200 degrees C). Coat a shallow baking dish with cooking spray.
2.
Place tomato slices close together in prepared baking dish. Sprinkle with cheese, bread crumbs, herbs, salt, and pepper. Drizzle with olive oil.
3.
Bake for 20 minutes in the preheated oven, or until cheese is lightly toasted. Serve warm or cold.